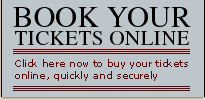 Adrian Boult Hall
Recital Hall
The Library Theatre
The Old Rep Theatre
Cannon Hill Park
Kings Heath Park
The Medicine Bar
The Orange Studio
Arena Foyer
Birmingham Repertory Theatre
Birmingham Hippodrome Theatre
MAC
The Drum

Welcome
Welcome to the Birmingham City Council Central Library Box Office. We sell tickets for a wide variety of promoters, events and venues in the region through a networked box office system.
This website offers real-time on-line secure ticket booking. It allows you to link directly into our main booking system, so that transactions are completely live, and credit card processing and seat allocation are undertaken while you are on-line.
We want your visit to be trouble free as possible. Please let us know if you have any special requirements.